The Whitlawburn five-a-side pitch, The Centre Circle,  officially opened on Saturday 5th of March, there was a great turnout from the community with about 130 young people taking part in all the different events including the under 12s coaching, skateboarding, dance workshops, a family fun day with arts and crafts and of course the youth football tournament.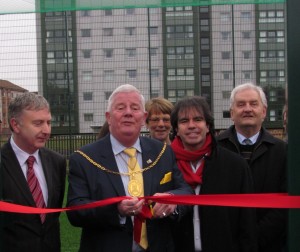 West Whitlawburn Housing Co-operative chairperson and Whitlawburn Community Resource Centre vice chairperson Anne Anderson thanked everyone for coming along to the opening of the new sports pitch. Anne went on to thank all the organisations who were involved in the project either through funding or construction before handing over to Provost Clearie.
Provost Clearie thanked everyone who was involved in the sports pitch including all the staff and volunteers who worked on the project. Russell also addressed the young people of the community during his speech, asking the local kids to give a big clap for all the partners who where involved in the pitch. "It's about your future, it's about getting involved in your community, it's about taking pride in your community." said Provost Clearie to the local kids.
James Kelly MSP also attended the event and said a few words about the importance of the project. "I think it is a tremendous facility for the local community here in Whitlawburn. You can see just by looking at the faces here how Whitlawburn really comes together as a community, this football pitch is a symbol of that." said Mr Kelly. James referred to the football pitch when it will have its floodlights on during the dark nights as a "beacon shining throughout Whitlawburn."
Football tournaments then took place for over 3 hours. The winning team was "The Team" and the best player of the tournament was 13 year old Maxie McLellan from Whitlawburn Utd.
If you would like to book The Centre Circle you can call Whitlawburn Community Resource Centre on 0141 641 5005